Health will strengthen health strategies in the northwest of Cordoba
The Minister of Health, Gabriela Barbás, signed a collaboration agreement with the Civil Association Sabia Tierra del Movimiento Campesino, in order to strengthen the design and implementation of different health strategies in the departments of Cruz del Eje, Minas, Pocho, San Alberto and San Javier, within the framework of the actions carried out by the Healthy Rural Family program.
On this occasion, Barbás stated: " Since we started working with the program and the Campesino Movement, we began to build a different bond. Formalizing this link through this agreement is assuming the commitment of the State to strengthen this joint work".
The agreement includes the implementation of territorial actions, with the participation of health promoters of the association and the teams of the provincial program, in order to strengthen the promotion of healthy habits, self-care and the detection of risk factors. Among the prioritized axes are: food, sexual and reproductive health, oral health, chronic diseases, vaccination, periodic control, hydatidosis, Chagas and home accidents, among others.
Likewise, it seeks to promote the systematization of information related to the health of each community, and promote commitment and participation in the different local health strategies.
For his part, Marcos Reyna, president of the Sabia Tierra Civil Association, stressed that "the Healthy Rural Family program is a fundamental tool in the territories . " In addition, he referred to the work of the organizations: "The participation of the compañeras and compañeros from the peasant communities is key in accessing the right to health."
In this sense, and in order to improve access and quality of care in each location, the association's team of promoters will have the function of being a link between families, social organizations in the area, the Healthy Rural Family program and institutions of different levels of complexity.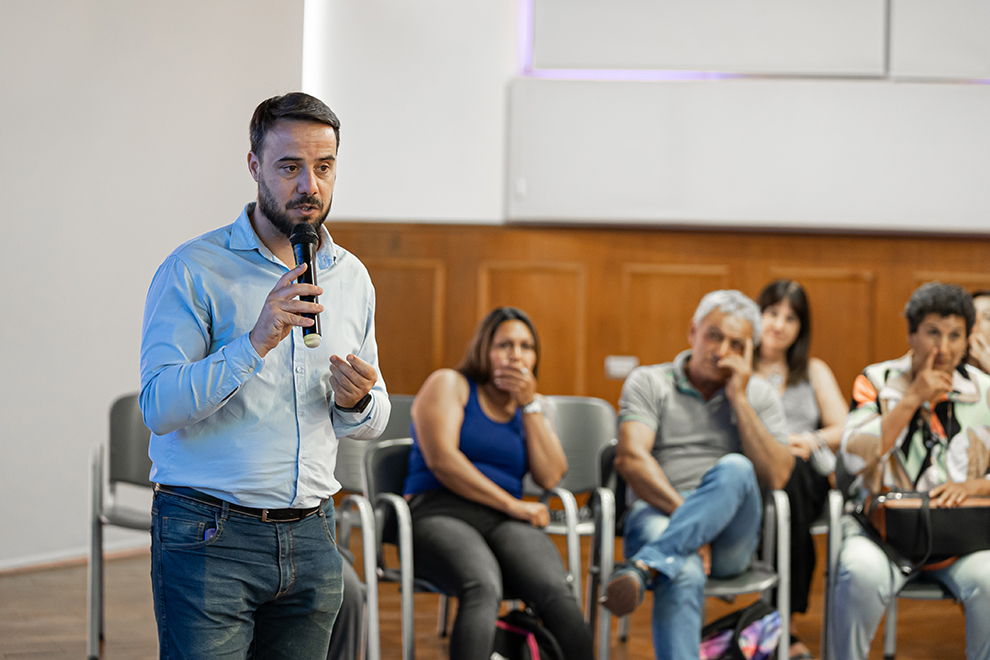 The undersecretary for Program Coordination, Manuel Ducant; the coordinator of the Healthy Rural Family program, Alejandro Racca; the director of Epidemiology, Laura López; the director of Health Integration, Ana Godoy; the director of the Provincial Institute of Dentistry, Carolina Isla; health teams from the Cruz del Eje and Villa Dolores nodes of the program; and promoters of the Campesino Movement of Córdoba.
Healthy Rural Family Program
During the day, the Healthy Rural Family program also held an annual closure, with the presentation of the main lines of work that were carried out in 2022.
Among them, the continuity of the actions in the field and the expansion of the professions and specialties of the team were highlighted; the articulation with different educational institutions and different programs and dependencies of the Ministry of Health; the strengthening of popular participation in the construction of health strategies through coordination with the Campesino Movement of Córdoba and other organizations; and the implementation of new data collection tools and recording devices.
It is worth mentioning that this provincial program, created in 2014 and dependent on the Ministry of Prevention and Health Promotion, is aimed at responding to the health needs of people living in rural areas of northwestern Cordoba.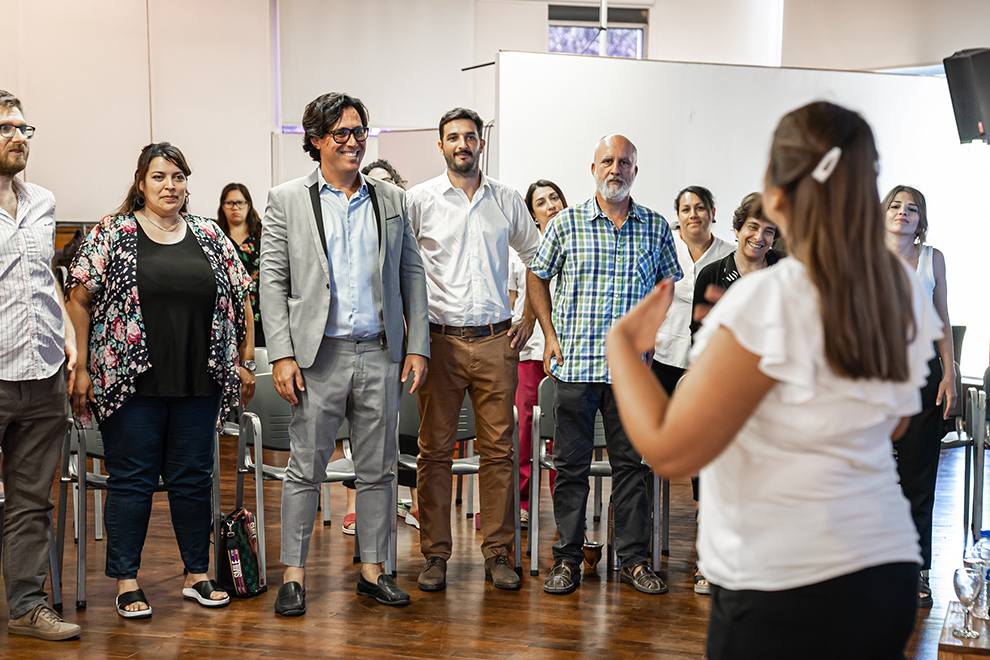 With this objective, it brings the offer of services closer to around 2,500 families that inhabit the 105 hamlets of the departments of Cruz del Eje, Minas, Punilla, Ischilín and San Alberto; according to your sanitary demand and local needs.
Likewise, the program -made up of health agents from different professions- carries out coordinated and articulated field activities with the Aurelio Crespo de Cruz del Eje Regional Hospital, communes, municipalities, and teaching and health teams in the region.
How Long After Wisdom Teeth Removal Can I Eat A Burger?
If you've had your wisdom teeth removal, then you will need to take be careful of what you eat and drink right after. Otherwise, you can either tear out your stitches or end up with dry socket. There are several things you can do to help yourself heal after wisdom teeth removal.
How Long After Wisdom Teeth Removal Can I Eat A Burger?
Some people ask the question, "how long after wisdom teeth removal can I eat a burger?". It's best to wait at least 7 days before biting into something that hard. You should start slowly by introducing solid foods back into your diet and be careful how you chew.
How to Chew Solid Foods After Surgery
First and foremost try not to use the part where your wisdom teeth were, do your best to chew with your front Wisdom Teeth Removal. If you have to use your molars try again to do the front molars. Make sure to use a saltwater rinse after every meal. When biting down do so slowly. If you accidentally get food in your wound site make sure not to crunch down hard. Especially if the food is hard, such as a burger or pizza.
Other Post Wisdom Teeth Removal Care Instruction
The aftercare of wisdom teeth removal is vital in the healing process. Food being a key component in this you want to avoid foods altogether for twenty-four hours. You can slowly add soft foods after the first few days. After about two weeks you can start eating more solid foods such as burgers and pizza.
Liquids, such as carbonated beverages should be consumed after several days. However, avoid using a straw for several weeks. This will help reduce the risk of blood clots being sucked out and opening up the incision site.
24-Hours After
Make sure to rinse with saltwater solution frequently after surgery Wisdom Teeth Removal. If you're feeling up to "eating" make sure to stick with clear liquids such as broth or water. Don't be surprised if you're not feeling up to eating much for a few days. Avoid sugary and/or carbonated liquids as this will increase your risk of infection. Bacteria grows with sugar and the saltwater solution will help keep the incision site clean.
2-4 Days After
If you're feeling up to it you'll be able to start to introduce more solids into your diet. Foods such as:
Applesauce
Greek Yogurt
Mashed Potatoes
Mashed Yams
Mashed Carrots
Scrambled Eggs
There are also the options of soup purees and broths that are fantastic options to work with. Soup purees, such as winter vegetables, butternut squash, and black bean, or just pureed vegetable soup. Make sure all foods are cooled to room temperature or even cold as this will help ease you back into eating solids. It will also lessen the shock to the wound site Wisdom Teeth Removal.
7-14 Days After
Once you're comfortable you can graduate to slightly "harder" foods such as soft carrots or shredded softened meats. You'll find soft noodles to also become easier to eat. Going back to the soup idea, chicken noodle soup with small shredded chicken would be a great treat! Again, make sure that you aren't consuming foods that are too hot as this might cause pain to the wound site.
3-4 Weeks Later
At this point, you can start to SLOWLY add in harder foods. However, you must be careful about how you chew. Start by chew at the front of your mouth. You do not want to aggravate your stitches and have them open up. You also want to make sure you don't get bits of food in your wound site. Remember, still, to eat cooler/cold foods and also to continue to do your saltwater rinse. This will help make sure nothing gets stuck in your incision or stitches.
What to Look Out For After Surgery
There are several reasons to call your doctor. These usually happen shortly after, within the first few days. However, it can happen several weeks post-operation.
Difficulty swallowing or breathing.
Excessive bleeding.
Severe pain that isn't being managed by the prescribed pain medications (do not take anything not prescribed in case of complications).
Swelling that is worse after a few days.
Foul taste in your mouth that doesn't go away after rinsing with salt water.
Pus or ooze coming from the open wound.
Loss of feeling or numbness in the mouth or jaw.
If you have any blood or pus that is being discharged from your nose.
How to Tell if You Have Dry Socket
Dry socket (also known as alveolar osteitis) is when, instead of a blood clot type object in replace of the tooth, you can see directly to the bone. This can cause intense pain. There are a few ways to increase your likelihood that you will get dry socket.
If you smoke (seventy-two hours, the longer you wait, the less likely you are to get dry sockets).
If you have poor oral hygiene (remember to use the saltwater rinse frequently)
Have your wisdom teeth pulled not extracted Wisdom Teeth Removal
If your surgery didn't go easy and you had more trauma than usual
If you are using birth control pills (make sure to contact your doctor if you stop before/after the procedure)
You also have an increased risk if you have a history of dry sockets
After Operation Care and Cleaning
Once you've woken up from your anesthesia from surgery how you take care of your mouth will determine how successful your recovery is. If you smoke shortly after or Wisdom Teeth Removal you'll find your recovery slow and painful with possible complications. If you are consistent and follow the care instructions your doctor outlines you're much less likely to run into issues.
Personalized Coaching and Your Fitness Journey 
Do you need a coach to start your fitness journey? The answer depends on several variables like your purpose for training, goals, and current experience levels. In this article, you will find some common benefits of one-on-one coaching.
What You Get From One-on-one Coaching
When you choose for professional coaching, you will receive a customized workout plan to suit your body composition. Your coach will hold you accountable for reaching your fitness goals, which is essential if you have difficulty staying accountable. If you have health challenges, your coach will help you determine the most suitable fitness routine. They will show you the proper form and help you achieve progressive overload as you train.
Conclusion
There are many other benefits of investing in professional fitness coaching. Each time your coach shares information, it expands your knowledge base about fitness. Whether there are personal or professional reasons behind your desire to be fit, check out www.theloft-personaltraining.ch for more details.
How to Cancel Factor Meals Subscription: A Step-by-Step Guide
Are you looking to cancel your Factor Meals subscription but don't know where to start? Canceling a subscription can be a tedious task, but with our step-by-step guide, you can easily cancel your Factor Meals subscription hassle-free.
Introduction
Factor Meals is a meal delivery service that provides pre-made meals to customers across the United States. They offer a wide variety of meals that cater to different dietary needs, including gluten-free, low-carb, and vegetarian options. While Factor Meals provides a convenient service for those with busy lifestyles, some customers may want to cancel their subscription due to various reasons.
Reasons for Cancelling Factor Meals Subscription
There could be several reasons why you might want to cancel your Factor Meals subscription. Here are some of the common reasons:
Dissatisfaction with the meal options
Change in dietary requirements
Financial constraints
Travel plans or relocating
Unsatisfactory customer service experience
Steps to Cancel Factor Meals Subscription
Canceling your Factor Meals subscription is a simple process that involves a few steps. Here is a step-by-step guide to help you cancel your subscription:
Step 1: Log in to Your Factor Meals Account
Visit the Factor Meals website and log in to your account using your registered email address and password.
Step 2: Navigate to Your Subscription Settings
Once you're logged in, navigate to your account settings, and select the "Subscription" tab.
Step 3: Click on "Cancel Subscription"
Under the "Subscription" tab, you'll see an option to "Cancel Subscription." Click on this button to initiate the cancellation process.
Step 4: Provide the Reason for Cancellation
Factor Meals will ask you to provide the reason for canceling your subscription. You can choose from the options provided or provide your own reason in the text box provided.
Step 5: Confirm Cancellation
Once you've provided the reason for cancellation, Factor Meals will ask you to confirm your cancellation. Click on the "Confirm Cancellation" button to complete the process.
Cancelling Factor Meals Subscription Over the Phone
If you're unable to cancel your subscription online or prefer to cancel over the phone, you can contact Factor Meals' customer service team. Here's how you can cancel your subscription over the phone:
Call the Factor Meals customer service team at 888-573-5727
Provide the customer service representative with your account information
Request to cancel your subscription
Provide the reason for cancellation if asked
Confirm the cancellation
Factors to Consider Before Cancelling Factor Meals Subscription
Before canceling your Factor Meals subscription, there are a few factors to consider:
Check if you're still under contract: If you're under a contract, canceling your subscription may result in a penalty or fee.
Check if there's a cancellation deadline: Some meal delivery services require you to cancel before a certain deadline to avoid being charged for the next delivery.
Pause your subscription: If you're canceling due to a temporary situation, such as travel plans, consider pausing your subscription instead of canceling it altogether.
Conclusion
Canceling your Factor Meals subscription is a straightforward process that can be done online or over the phone. Make sure to consider any penalties or deadlines before canceling, and remember that you can always pause your subscription if needed. We hope our step-by-step guide has been helpful in assisting you in canceling your Factor Meals subscription.