Health will strengthen health strategies in the northwest of Cordoba
The Minister of Health, Gabriela Barbás, signed a collaboration agreement with the Civil Association Sabia Tierra del Movimiento Campesino, in order to strengthen the design and implementation of different health strategies in the departments of Cruz del Eje, Minas, Pocho, San Alberto and San Javier, within the framework of the actions carried out by the Healthy Rural Family program.
On this occasion, Barbás stated: " Since we started working with the program and the Campesino Movement, we began to build a different bond. Formalizing this link through this agreement is assuming the commitment of the State to strengthen this joint work".
The agreement includes the implementation of territorial actions, with the participation of health promoters of the association and the teams of the provincial program, in order to strengthen the promotion of healthy habits, self-care and the detection of risk factors. Among the prioritized axes are: food, sexual and reproductive health, oral health, chronic diseases, vaccination, periodic control, hydatidosis, Chagas and home accidents, among others.
Likewise, it seeks to promote the systematization of information related to the health of each community, and promote commitment and participation in the different local health strategies.
For his part, Marcos Reyna, president of the Sabia Tierra Civil Association, stressed that "the Healthy Rural Family program is a fundamental tool in the territories . " In addition, he referred to the work of the organizations: "The participation of the compañeras and compañeros from the peasant communities is key in accessing the right to health."
In this sense, and in order to improve access and quality of care in each location, the association's team of promoters will have the function of being a link between families, social organizations in the area, the Healthy Rural Family program and institutions of different levels of complexity.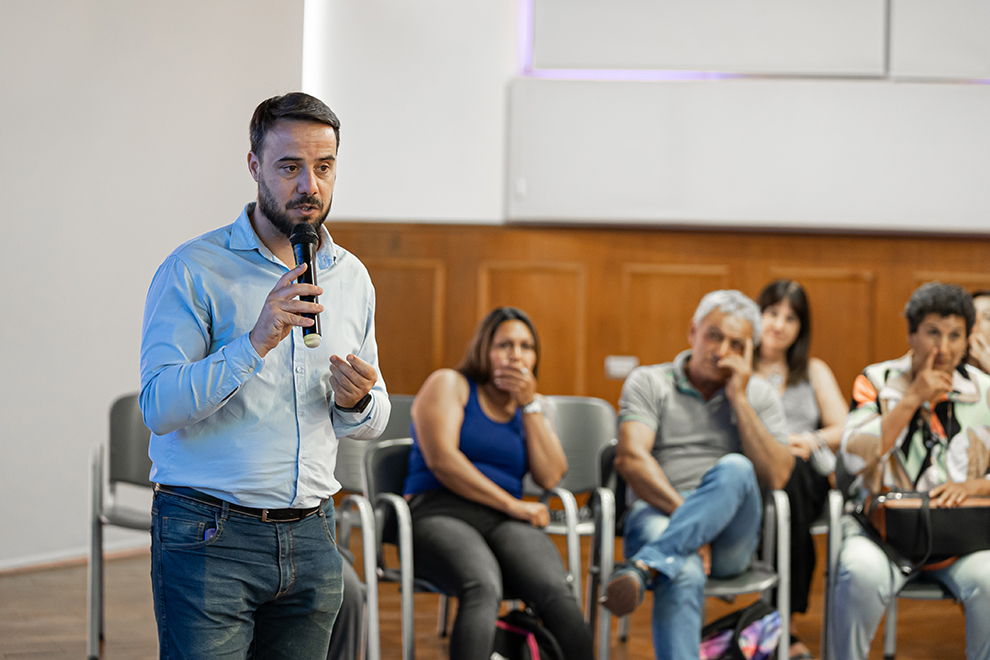 The undersecretary for Program Coordination, Manuel Ducant; the coordinator of the Healthy Rural Family program, Alejandro Racca; the director of Epidemiology, Laura López; the director of Health Integration, Ana Godoy; the director of the Provincial Institute of Dentistry, Carolina Isla; health teams from the Cruz del Eje and Villa Dolores nodes of the program; and promoters of the Campesino Movement of Córdoba.
Healthy Rural Family Program
During the day, the Healthy Rural Family program also held an annual closure, with the presentation of the main lines of work that were carried out in 2022.
Among them, the continuity of the actions in the field and the expansion of the professions and specialties of the team were highlighted; the articulation with different educational institutions and different programs and dependencies of the Ministry of Health; the strengthening of popular participation in the construction of health strategies through coordination with the Campesino Movement of Córdoba and other organizations; and the implementation of new data collection tools and recording devices.
It is worth mentioning that this provincial program, created in 2014 and dependent on the Ministry of Prevention and Health Promotion, is aimed at responding to the health needs of people living in rural areas of northwestern Cordoba.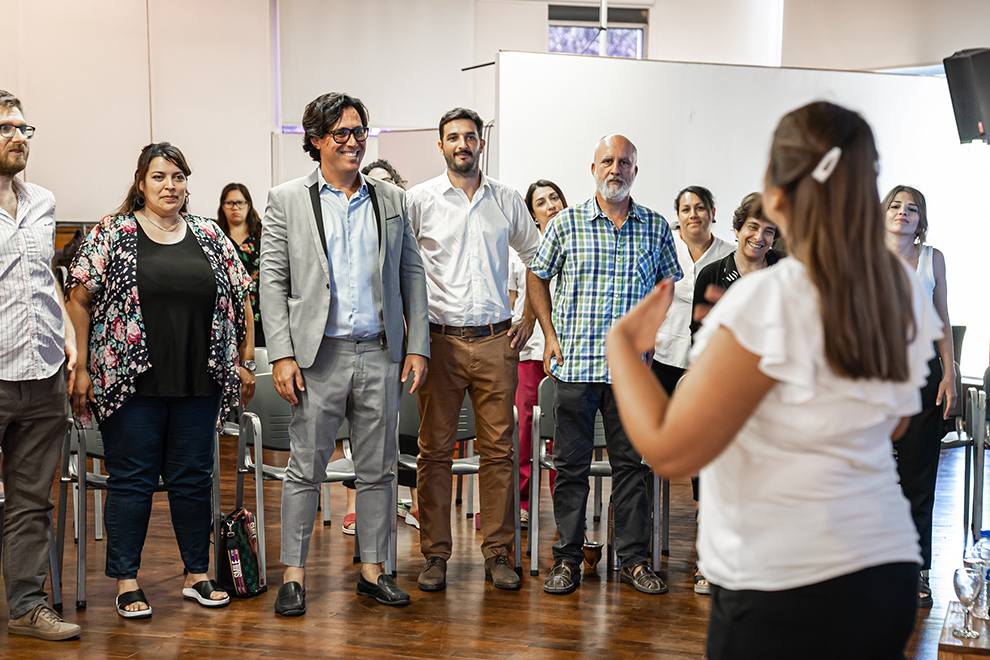 With this objective, it brings the offer of services closer to around 2,500 families that inhabit the 105 hamlets of the departments of Cruz del Eje, Minas, Punilla, Ischilín and San Alberto; according to your sanitary demand and local needs.
Likewise, the program -made up of health agents from different professions- carries out coordinated and articulated field activities with the Aurelio Crespo de Cruz del Eje Regional Hospital, communes, municipalities, and teaching and health teams in the region.
How To Improve Mental Health
There's no denying that mental health is an important part of anyone's overall health and well-being. Taking care of your mental health allows you to recognize and manage your emotions and thoughts, establish and maintain relationships, and cope with challenging situations. The truth is that your mental health is critical for positive functioning in everyday life, but many of us find ourselves overwhelmed or unsure of what to do when we're struggling. Fortunately, there are plenty of valuable resources available to assist you, you just need to take advantage of them. If you're in need of advice or support, keep reading to learn how you can improve your mental health.
How can you improve your mental health?
Having someone you feel comfortable talking to and confiding in can provide the emotional support that people need when dealing with mental health issues. It is not always easy to find someone that understands what one may be going through, but there are several ways of finding such a person, and the internet has made it easier. "I need someone to talk to," then you may want to explore your options, including online chat networks. An online peer support network can make a huge difference and allow you to get something off your chest right away.
Many people don't realize it, but home improvement can actually be a great way to improve your mental health. If you want a simple project to take on, then think about cabinet refacing. Refacing is the process of updating the look and feel of existing cabinetry by replacing cabinet doors, drawer fronts, and other components with new ones. This method allows you to maintain the same basic structure while giving it a fresh, modern look that reflects your style. A quick search for "cabinet refacing near me" should turn up some options in your area.
Mental health issues are often caused by various factors such as genetics, traumatic events, and other environmental stressors. We all need to understand the symptoms of poor mental health if we want to protect ourselves. Some examples of symptoms to look or include difficulty concentrating, feeling overwhelmed, feeling overly anxious, and withdrawing from activities.
What lifestyle factors can impact your mental health and wellness?
Now that you know a little more about how to improve your mental health, let's discuss some of the lifestyle factors that can impact your mental health and wellness. For instance, many people don't know that lack of sleep can significantly affect their mental health. It can lead to fatigue, irritability, and even an elevated risk of developing depression. Sleep deprivation can also lead to mood swings and changes in your personality. If you find that you're having trouble sleeping, talk to your doctor as soon as possible so you can find a solution.
There is a growing body of scientific evidence that suggests that exercise can have a positive effect on your mental health. Exercise can improve your mood, increase your energy levels, and make you feel noticeably more alert and focused. Additionally, exercise can alleviate stress. Working out can be a helpful supplement to other things, such as therapy or medication, though exercise should not be used as a replacement for traditional mental health treatments. Choose an activity you enjoy so it will be easier to stick to your routine.
Overall, improving mental health is an integral part of leading a happy and healthy life. Taking care of mental health is just as necessary as taking care of physical health, and can affect almost every aspect of your life. Some options you should consider include using peer support networks, upgrading your home, and identifying symptoms of mental illness. You also need to prioritize making healthy lifestyle choices, including getting enough sleep and staying as active as you are able to. By following the tips in this article, you can feel like the best version of yourself.
Implementation of the Affordable Care Act
The Affordable Care Act (ACA) was signed into law in 2010, with the goal of increasing access to healthcare for Americans. It is a comprehensive healthcare reform that includes many changes to the healthcare system. The law has had a significant impact on the healthcare industry, and it continues to be a controversial topic in politics.
At its core, the ACA is designed to make healthcare more affordable and accessible. It accomplishes this by expanding Medicaid, creating insurance marketplaces, and requiring insurance companies to cover certain essential health benefits. The ACA also includes provisions that prohibit insurance companies from denying coverage to people with pre-existing conditions, and it allows young adults to stay on their parents' insurance until age 26.
Since its implementation, the ACA has had a significant impact on the healthcare industry. One of the most notable changes is the increase in the number of Americans who have health insurance. According to the Centers for Disease Control and Prevention (CDC), the uninsured rate in the United States dropped from 16% in 2010 to 9.2% in 2015. This decrease in the uninsured rate can be attributed to the ACA's expansion of Medicaid and the creation of insurance marketplaces.
The ACA has also had a significant impact on healthcare costs. The law includes provisions that aim to reduce healthcare spending, such as the creation of accountable care organizations (ACOs) and the implementation of the Medicare Shared Savings Program. These programs incentivize healthcare providers to work together to provide high-quality care at a lower cost.
However, the ACA has also faced significant opposition from some politicians and special interest groups. Some of the main criticisms of the law include the individual mandate, which requires most Americans to have health insurance or face a penalty, and the Cadillac tax, which is a tax on high-cost health plans. Critics argue that these provisions are burdensome and can be costly for individuals and businesses.
Despite the controversy surrounding the ACA, it remains a significant piece of legislation that has had a major impact on the healthcare industry. It has increased access to healthcare for millions of Americans, and it has led to significant changes in the way healthcare is delivered and paid for. While there is still much debate about the law, there is no denying that it has made a significant impact on the lives of many Americans.
In conclusion, the implementation of the Affordable Care Act has had a significant impact on the healthcare industry. It has increased access to healthcare, reduced the uninsured rate, and led to changes in the way healthcare is delivered and paid for. While the law remains controversial, it is clear that it has had a major impact on the lives of millions of Americans.
HOW TO LOWER HIGH BLOOD PRESSURE (HYPERTENSION)
Myth: "If you inherit hypertension, there's nothing you can do about it." Years ago, this dictum was taken as the truth by people. But times have changed, bringing in some more awareness around this condition. While it is nearly impossible to prevent inheriting hypertension, you can manage it and avert its health risks. But are medicines the only answer?
When discussing how to lower high blood pressure, we often debate whether we over-rely on medicines. But the truth is that hypertension can be a lifelong disease, and you may have to take daily doses of your medication for the rest of your life. It's worth it to protect your heart. But while medicines are critical for keeping BP in check, they aren't the only way to stay hypertension-risk-free. In fact, there is much you can do to lower high blood pressure. And a little dose of lifestyle changes might hold the key.
Though there isn't a foolproof medication for complete high blood pressure treatment, this article explores methods and measures to reduce high blood pressure, offering insights from experts. But before we dive into the primary matter, let's first take a quick glance at BP readings; the normal and the not-so-normal range. 
UNDERSTANDING BLOOD PRESSURE READINGS
| | | |
| --- | --- | --- |
| Blood pressure category | Systolic mm Hg(upper number) | Diastolic mm Hg (lower number) |
| Normal | Less than 120 | Less than 80 |
| Elevated | 120 – 129 | Less than 80 |
| Hypertension stage I | 130 – 139 | 80 – 89 |
| Hypertension stage II | 140 or higher | 90 or higher |
| Hypertensive crisis(consult a doctor immediately) | Higher than 180 | Higher than 120 |
Note: If your BP is higher than 180/120 mm Hg and you are experiencing chest pain, shortness of breath, back pain, numbness/weakness, change in vision or difficulty speaking, do not wait to see if your pressure comes down on its own. Visit a doctor near you.
WAYS TO LOWER HIGH BLOOD PRESSURE
High BP is a cumulative result of factors including age, genetics, obesity, a high-salt diet, and lack of exercise. Thus, it makes sense that once you take control of these aspects of your life, you also take control of your BP. Let's dig in deeper.
Physical activity is good for the heart. You can try aerobic and resistance exercises to reduce blood pressure significantly. As you regularly increase your breathing and heart rates, your heart gets stronger and pumps with less effort. This means your arteries experience lesser pressure, lowering your blood pressure as well. But you don't have to go to the gym every day. Getting some physical activities into your life can be as simple as:
Using the stairs
Walking instead of driving
Doing household chores
Gardening and lifting pots
Going for a bike ride
Playing a team sport
Losing weight
With more body weight, your blood pressure can rise. Losing 5 to 10 kgs is one way how you can lower high blood pressure levels if you're overweight. Even a slight weight change can make a big difference in helping to prevent hypertension risks.
And losing weight is a double winner, as this way, you'll lower your risk of other potential medical problems.
Reducing refined carbs, sugar, and salt intake
It is commonly known that limiting salt-laden foods helps reduce high blood pressure levels. But, even limiting sugar has the same effects. In fact, sugar may increase your blood pressure more than salt. So cutting back on it means better results for you.
When you're very stressed, your body produces a surge of hormones. These hormones temporarily increase your BP by causing your heart to beat faster and your blood vessels to narrow down.
However, there's no proof that stress causes long-term high blood pressure. But finding ways to reduce stress is vital for your health and blood pressure.
Practice mindfulness yoga
Yoga is a mind-body therapy based on movement, and it may provide a range of health benefits. And reducing BP levels is one of them for specific individuals. Results of small studies suggest that yoga may modestly lower high blood pressure.
The lesser you give yourself some sleep, the higher your blood pressure may go. Studies show that people who sleep six hours or less may have steeper increases in BP. If you already have high BP, not sleeping well may make readings worse.
It's thought that sleep helps your body control hormones needed to regulate stress and metabolism.
FINAL TAKEAWAYS
An alarming number of people have high blood pressure. Known medically as hypertension, many people don't even know they have it because high blood pressure has no symptoms or warning signs. Fortunately, it can be detected early if you keep checking your BP levels regularly. Once detected early, effective management is possible with lifestyle modifications and perhaps even without medication.
A slight change goes a long way. Inculcating a few healthy habits in your daily routine improves your health and keeps many lifestyle conditions away. Keep in touch with your doctor to check your BP, blood sugar, and cholesterol levels to stay on top of your health, and never be surprised by Hypertension. If you have already noticed your blood pressure levels rising, visit an expert as soon as possible to learn about what lifestyle changes will work in your case and make managing hypertension easier or avoid it altogether.